---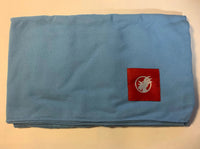 The rooster regatta (microfibre) towel is an ideal partner in your kit bag. Big enough to cover up your ego, small enough to fit neatly into the smallest space. Its microfibre construction offers you an amazing drying ability and its thickness ensures that it dries fast in normal conditions to ensure you have a odour free towel for longer. Size 1.12 m by 0.5m (44"x 19.5").
Also great for wiping down the boat after a regatta.  Soaks up moisture like a dish cloth.  
Use as a scarf on cold windy days to prevent ice cold water coming down your neck!  Wipe the dew off the car windows in the early morning as you head out to the regatta, etc., etc., etc...